April 9, 2020
New information and updates
Remote Instruction

La Salle University continues to monitor the COVID-19 pandemic and make decisions in alignment with and under the guidance of public health officials, both globally and locally. The University will extend remote instruction for all courses scheduled during the Summer 2020 term, from May 18 through August 21.


Log-in to Br. LUWIS to register for Summer 2020 courses.

Housing
In extending remote instruction through summer, the University will not offer on-campus housing in Summer 2020. The University Housing and Residence Life staffs are working on several plans to complete Spring 2020 residence hall move-out. With guidance from health and government officials, the University will communicate with students regarding the timing for a safe return to campus to collect personal belongings. Thank you for your continued patience and understanding.

Holy Week

The Lasallian District of Eastern North America provides several Lenten resources, including a video that guides viewers through the Stations of the Cross. The Vatican also has announced details for Holy Week celebrations with Pope Francis.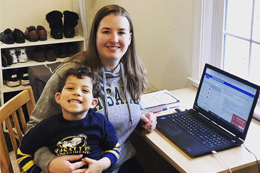 #LaSalleFromHome
Continue sharing your work, study, and leisure spaces by using the #LaSalleFromHome hashtag on social media.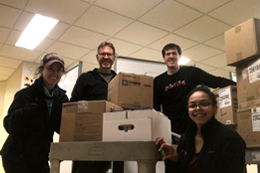 #LasalliansInAction
La Salle's Biology and Chemistry departments recently donated boxes of personal protective equipment to Destiny Marquez, '16, a fourth-year medical student at Temple University, and her classmates on the front line. Know of other #LasalliansInAction? Send information and photos to umc@lasalle.edu.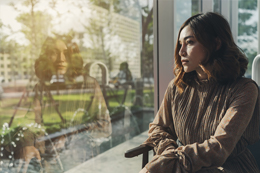 In the Media
With limited face-to-face interactions, what options exist for those in substance abuse support groups? Kristen Shirley, the director of La Salle's Substance Abuse and Violence Education (SAVE) Center, spoke with the Harrisburg Patriot-News. She encouraged creativity and recommended virtual gatherings.

Resources
For students:
Career Center. The La Salle Career Center's annual Spring Job and Internship Fair is under way. Learn more about participating in the Job and Internship Fair, which ends Friday.
The Outpost. Books, electronics, apparel, and gifts are available online at The Outpost's website, lasalleoutpost.com. The due date to return rental books has been extended by 15 days, to May 26. Students who rented books through The Outpost will receive a free shipping label to the email address on their rental account. Send questions to 2033mgr@follett.com, and follow The Outpost on Instagram.
The Basket. Until further notice, the University's campus food pantry—The Basket—is open Tuesdays and Thursdays, between 12:30-2 p.m., and Wednesdays from 4:30-7 p.m. Enter St. Benilde Tower using the atrium doors, located at the foot of the Blue Bridge. Produce, baked goods, dairy, frozen meat and poultry, and canned and packaged items are available to any student with a La Salle ID.
For faculty and staff:
Secure your Zoom meeting. Nationally, virtual meetings are being "Zoombombed" by unexpected (and uninvited) guests. You can password-protect your meeting and make sure only the host can share a screen, both of which are now default settings for all new La Salle Zoom meetings. There are several other ways to protect your meeting: create a unique ID for the meeting, or create a waiting room that allows only the host to permit a user entry into the meeting. The Zoom Security Guide, in the mylasalle Portal, has more information.
Payroll. For staff and faculty who have Philadelphia Non-Resident Tax status, an option exists to temporarily stop your Philadelphia city wage tax until campus operations return. Consult an April 3 email for instructions.
Benefits. Nutrition sessions will continue virtually and additional sessions have been added for those who are looking for direction on wellness while they are working from home. In addition to the regular La Salle employee discount, Verizon Fios is now offering an extra discount to new and existing customers and other no cost resources. Also, for those enrolled in La Salle University's dental plan, United Concordia covers teledentistry appointments.

Additional Updates
Financial Literacy
Information Technology
La Salle IT has received reports of several COVID-19-related phishing scams targeting University email accounts. Remember to change your passwords regularly. Never open emails or download attachments sent from suspicious or unknown accounts. Do not store confidential information in OneDrive or other cloud-based drives. Questions can be directed to
helpdesk@lasalle.edu
.
COVID-19 website
Bookmark La Salle's
COVID-19 page
, if you have not already. It provides access to the University's campus-wide communication, best practices for staying healthy, and a
helpful FAQ
with answers to your most-asked questions.