Email not displaying correctly? View it in your browser.

July 22, 2020
#ExplorersReturn—our return-to-campus plan
Earlier this month, the University announced its return-to-campus plan, called #ExplorersReturn. The comprehensive plan outlines personal health expectations for every member of the La Salle community and offers guidance on safe ways to work, live, study, dine, and more while on campus. Download the plan to review it in full.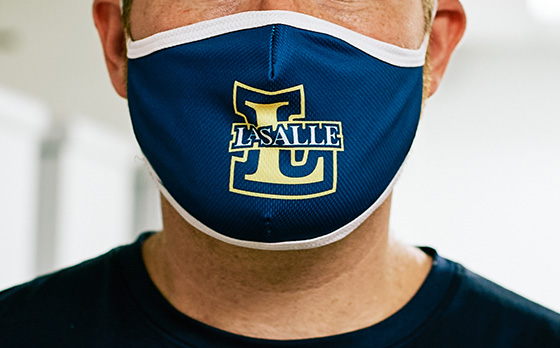 Mask up, La Salle
This fall, you will be expected to wear a face mask. That's true even if you are practicing physical distancing. Learn more about the University's protocol for when, where, and how to wear face coverings on campus.

Resources
For students:
Student survey for Fall 2020. The reality of the pandemic means each student's situation and circumstances are unique. Students will find the link to a short survey within a July 22 email message from Steven F. Siconolfi, Ph.D., interim provost and vice president of academic affairs. Please complete the short survey by Sunday, July 26, to provide the University with feedback on your plans for Fall 2020. Responses will help the University learn more about individual academic needs and provide options to meet the diversity of those needs at a time when flexibility is key.
Career Center webinars. "Career Readiness from your Couch" is a weekly webinar series offered by La Salle's Career Center all summer. View the schedule of webinars and register on Handshake.
The Basket. Hours at the Basket for this and next week are as follows: The St. Benilde Tower location is open Wednesday, 1–6 p.m., and Thursday 12–2 p.m. The College Hall location is open Monday through Thursday, 10 a.m.–4 p.m. Note: the St. Benilde location will be closed in August. Students are encouraged to visit before the end of the month. Currently, frozen meats and poultry (sausage, turkey, beef, ham, and more) are in stock.
For faculty and staff:

Additional Information
Return-to-campus questions
Do you have questions or feedback after reviewing the University's return-to-campus plan? You can submit both through a form on the University's COVID-19 page.
Important dates and details
Be sure to bookmark important deadline dates in Fall 2020, the 2020-21 academic calendar, and Br. LUWIS course schedules.
University Archives' COVID-19 Project
La Salle's University Archives team has launched the COVID-19 Project. Future Lasallians, undoubtedly, will want to understand what it was like for today's Explorers to work and study during the pandemic. Would you like to share your stories and screenshots? Would you like to submit your photos and videos? Here's how to participate.