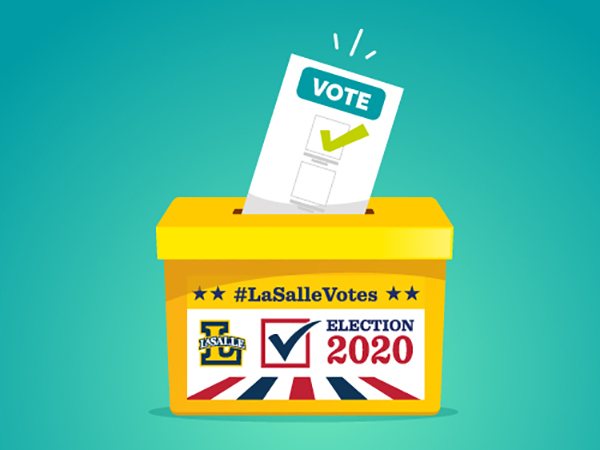 Last week, the La Salle Votes! Initiative welcomed seven politicians—all La Salle alumni—to a nonpartisan panel discussion focused on the impact your single vote can make. CBS3 has the story.
Featured Events
Virtual Open House

Saturday, Oct. 24, 10 a.m.
La Salle invites prospective students and their families to participate in the second of two virtual open houses, scheduled for this Saturday. It's not too late to register.
Mass
Sunday, Oct. 25, 8 a.m.
Mass for the 30th Sunday in Ordinary Time will be live-streamed from the St. Joseph Chapel of the De La Salle Christian Brothers, on La Salle's campus. View the live-stream via the La Salle UMAS Facebook page.
Explorer Café - Art and Activism: What is art's role during times of crisis?
Wednesday, Oct. 28, 3:30 p.m.
Mey-Yen Moriuchi, Ph.D., associate professor of art history, and Miranda Clark-Binder, curator of education and public programs of the La Salle University Art Museum, lead this installment of the Explorer Café series. Don't miss out.
More to explore
Campus housing
Students interested in campus housing for Spring 2021 have approximately two weeks to complete their housing application in the MyLaSalle Portal. Have questions? Send them to housing@lasalle.edu or call 215-951-1370.
Academic support
The Center for Academic Achievement provides tutoring, academic coaching, and supplemental instruction. Schedule an appointment or email questions to learn more.
Student survey
The #RealCollege survey, a nationwide survey led by Temple University's Hope Center for College, Community, and Justice, seeks student feedback for a chance to win $100. Learn more.