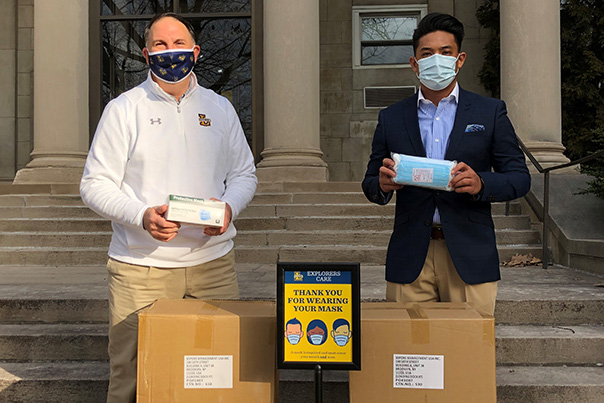 Mask up, La Salle
Trans "R.J." Lualhati, '16, right, delivered 10,000 disposable face masks to the La Salle community. Lualhati met with Daniel Joyce, M.A. '01, vice president of university development, to make Friday's dropoff. During the pandemic's first wave, Lualhati borrowed 3D printers from La Salle to manufacture and donate face shields to Philadelphia-area hospitals.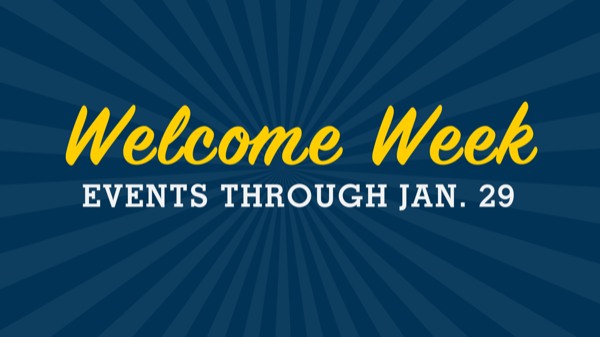 Welcome Week events continue through today and tomorrow. There's something for every La Salle student. Here's how to get involved.
Featured Events
Biden administration: Challenges and prospects
Today, 12:30 p.m.
La Salle Votes! and the Department of Political Science co-sponsor this panel discussion about the new administration. Topics will include the Department of Justice, the pandemic, inequality, domestic and international politics, and more. Here's how to join.
Setting Smart Goals
Today, 12:30 p.m.
The Center for Academic Achievement invites students to learn more about setting goals for the spring semester. Join the session.
I Dream: First-generation student event
Friday, Jan. 29, 11 a.m.
Head to the lobby of Founders' Hall to chat with University staff for tips and help in reaching your goals as a first-gen college student.
Men's basketball at Virginia Commonwealth
Saturday, Jan. 30, 1 p.m.
The Explorers visit the Rams in conference play in a game televised nationally by NBC Sports Network.
Mass
Sunday, Jan. 31, 6 p.m.
Mass for the fourth Sunday of Ordinary Time will be held in the De La Salle Chapel and livestreamed through the La Salle UMAS Facebook page.
Does the La Salle curriculum represent our student population?
Wednesday, Feb. 3, 3:30 p.m.
The Explorer Café series opens its spring programming with this session, co-led by Rosemary Barbera, Ph.D., associate professor and chair of social work, and students Christian Camacho, '21, and Yosibeth Torres, '21. Reserve your spot.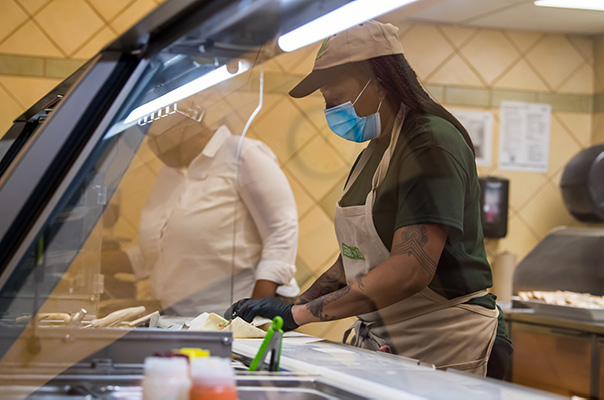 Meal options are available this semester through Campus Dish for both students and for faculty and staff. For added safety and convenience, be sure to download the Sidekick app to place orders through your mobile device.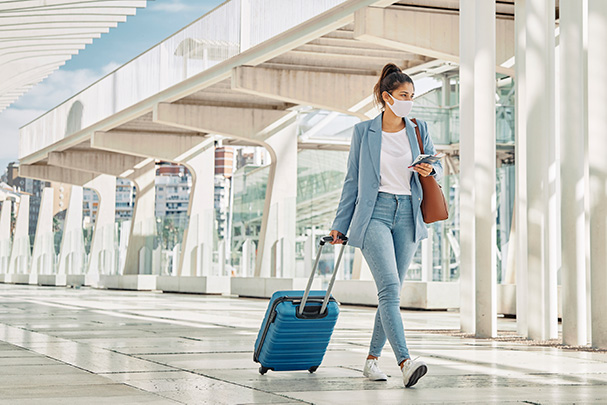 For millions of Americans, travel plans during the pandemic have been put on hold. 6ABC spoke with Julie Hill, Ph.D., assistant professor of psychology, who explains social media 'travel shaming' and ;the differences in how we analyze risk and benefit.
More to explore
The Basket
The St. Benilde Tower location of The Basket will be open today from 12–5:30 p.m. Join The Basket's Canvas page for updates on hours of availability at La Salle's on-campus food pantry.
COVID-19 resources
Weekday Masses
Each week, on Monday and Wednesday, Mass will be held at 1 p.m. in the De La Salle Chapel. Those who attend will be required to wear face masks and maintain physical distancing.