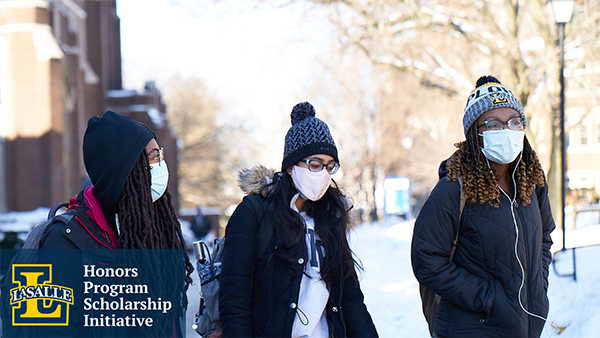 In less than seven months, the La Salle Honors Program Scholarship Initiative is a third of its way toward its goal of raising $3 million by 2023. You can help. One young alumnus said he hopes his multi-year gift creates "a virtuous cycle of philanthropy with successive classes."
Featured Events
Ask an Alum
Today, 12:30 p.m.
Join a virtual panel to ask questions of alumni in communications, human relations, and child and victim advocacy. Here's how to register.
Is it our civic duty to get vaccinated?
Today, 3 p.m.
The University City Science Center welcomes Jason Diaz, Ph.D., assistant professor of integrated science, business, and technology, for today's presentation on vaccine efficacy and availability and how to support vulnerable populations. Join the presentation.
Mass
Sunday, Feb. 28, 6 p.m.
Mass for the second Sunday of Lent will be held at 6 p.m. in the De La Salle Chapel and livestreamed through the La Salle UMAS Facebook page.
Earned, now endowed
Wednesday, March 3, 3:30 p.m.
What do La Salle collections teach us about early feminism and the suffrage movement? La Salle Art Museum curator Miranda Clark-Binder and special collections librarian Heather Willever-Farr, Ph.D., lead this Explorer Café installment. Join the conversation.
La Salle and the Blackfeet Nation
Thursday, March 4, 5 p.m.
The LIVE Service Trip Program invites the La Salle community to speak with staff from the De La Salle Blackfeet School in Browning, Mont., who will share insights on the Blackfeet Nation, American Indian culture and heritage, and more. Here's how to register.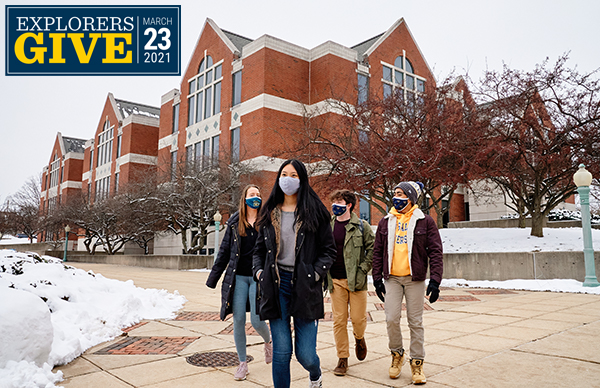 Save the date: La Salle's eighth annual Day of Giving is set for Tuesday, March 23. A contribution of any size ensures an accessible pathway to a transformational education.
The Career Fair is next week. The two-day virtual event, held March 2–3, is open to all students, regardless of major. Visit Handshake to register for either day of the Career Fair.
Graduating seniors are eligible to serve as the Class of 2021 commencement speaker. Submit an application and a draft speech before the March 22 deadline. Learn more.
More to explore
Climate survey
An invitation to complete a climate survey, from the Joint Commission for Diversity, Equity, and Inclusion, is in your inbox. The deadline is March 5. Learn more.
The Basket
The St. Benilde Tower location of The Basket will be open today from 12–5:30 p.m. Join The Basket's Canvas page for updates on hours of availability at La Salle's on-campus food pantry.
COVID-19 resources
Weekday Masses
Each week, on Monday and Wednesday, Mass will be held at 1 p.m. in the De La Salle Chapel. Those who attend will be required to wear face masks and maintain physical distancing.