Featured Events
Mystical Hope: A Palm Sunday retreat
Sunday, March 28, 3 p.m.
This virtual retreat, offered by the Lasallian District of Eastern North America, is open to all. Sign up.
Mass
Sunday, March 28, 6 p.m.
Mass for Palm Sunday of the Lord's Passion will be held at 6 p.m. in the De La Salle Chapel and livestreamed on Facebook through the La Salle UMAS page.
John XXIII Pacem in terris lecture
Tuesday, March 30, 7 p.m.
The marquee event of Mission and Heritage Month features a panel discussion on the papal encyclical Fratelli tutti and global efforts to enact for the common good. Learn more.
Weighing in: How can we identify and reduce weight stigma?
Wednesday, March 31, 3:30 p.m.
Edie Goldbacher, Ph.D., associate professor of psychology, and Ilana Chamdi, a student in the Psy.D. program in clinical psychology, address this important topic in the final installment of the Explorer Café series. Here's how to register.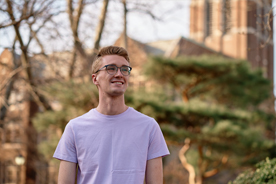 Volunteerism is a part of who Brett Conley, '23, is. That commitment to community even led the School of Business student to donate bone marrow. Read more about Conley, who has been recognized as a 2021 Newman Civic Fellow.
More to explore
COVID-19 vaccine certification
The University invites employees and students to submit a COVID-19 vaccine certification form if you have completed a full cycle of the COVID-19 vaccine. Have questions? Here's how to submit one.
The Basket
The St. Benilde Tower location of The Basket, La Salle's on-campus food pantry, is open today from 12–5:30 p.m.
Weekday Masses
Each week, on Monday and Wednesday, Mass will be held at 1 p.m. in the De La Salle Chapel. Those who attend will be required to wear face masks and maintain physical distancing.