A safe return after Easter
Following Easter, the University returns to campus and enters into a quiet period of exclusively remote instruction for one week. Read up on La Salle's measures to keep campus safe, including a reintegration testing strategy.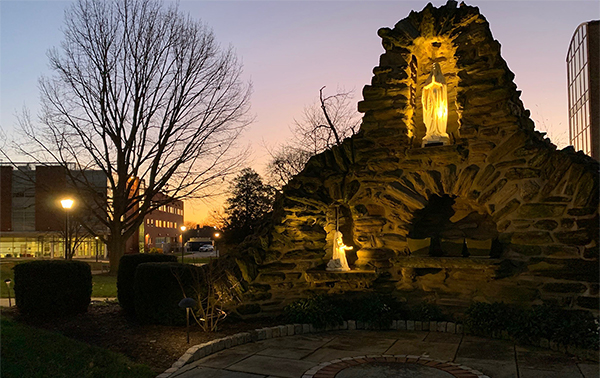 La Salle University Ministry, Service and Support has developed a schedule of Catholic liturgies for Holy Week and Easter Week, beginning with the Exposition of the Blessed Sacrament and continuing with Masses through next week. Find out how you can celebrate, whether in-person or via livestream.
Featured Events
Weighing in: How can we identify and reduce weight stigma?
Today, 3:30 p.m.
Edie Goldbacher, Ph.D., associate professor of psychology, and Ilana Chamdi, a student in the Psy.D. program in clinical psychology, address this important topic today in the final installment of the semester's Explorer Café series. Here's how to register.

12th annual Michael J. Kerlin Memorial Lecture
Wednesday, April 7, 2 p.m.

The University welcomes Graham McAleer, Ph.D, professor of philosophy at Loyola University Maryland, as the featured guest speaker of this year's Kerlin Lecture. The event is open to all.
Justice in the World and the Mission of Lasallian Education Today: Enacting the Common Good
Wednesday, April 7, 7 p.m.
The Lasallian Association of Colleges and Universities invites all to this virtual symposium, which will be moderated by Br. Ernest J. Miller, FSC, D.Min, vice president of mission, diversity, and inclusion. Here's how to register.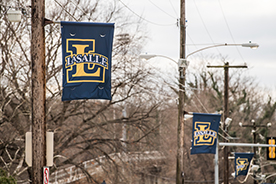 Reporters tapped University experts to discuss topics ranging from Dr. Seuss books and the future of workspaces, to COVID-19 vaccines and the intersection of baths and mindfulness. Check out this month's highlights.
More to explore
COVID-19 vaccine certification
Have you completed a full cycle of the COVID-19 vaccine? If so, the University invites employees and students to submit a COVID-19 vaccine certification form.
The Basket
The St. Benilde Tower location of The Basket, La Salle's on-campus food pantry, is open today from 12–5:30 p.m.